In a move which demonstrates the value of clarity when collecting data, Guardian News and Media has debuted a new privacy video to explain why customer data is so important. Guardian Director of Consumer revenues and DPN Governance Board Member, Julia Porter explains why the company took this step.
"Our video is part of a concerted effort to be clear about the value of data to the business and why it helps to keep our journalism free to access.
As the Guardian's digital first strategy matures, in common with many commercial digital businesses, and with the consent of our readers, we are able to use that data to generate revenues to be reinvested into the Guardian. The more accurately we can use that data to help advertisers to get the most relevant adverts to our readers, and the more effectively we can personalise offers and services, the higher the revenues we can generate to support our journalism.
Our readers rightly expect transparency around how we manage their information and want to have a choice about how that information is shared. It is also crucial that the Guardian provides readers with reassurance that we take data security very seriously and have rigorous systems and processes in place to carefully look after any data that we collect.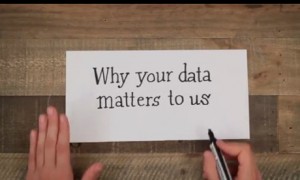 Recently, Guardian website users who have agreed to be contacted by us have been emailed about their data and why it matters to us. The email aims to explain how data is handled, explains why information matters to us as a business, encourages them to sign in to our website and provides clear information about how readers can manage their email preferences.
At the heart of the email is a reassurance that we'll continue to provide access to our award- winning journalism at no cost, but we're also being clear with our readers about the benefits to them – and to the Guardian – if they decide to voluntarily sign into our website.
Namely, a better experience on our website through the delivery of personalised content, more relevant advertising, products and services such as our Membership scheme, Masterclasses and our recently re-launched Guardian Bookshop. As our digital products develop we'll create more tools enabling readers to personalise how they view content on their terms.
We have also developed a brand new privacy centre, which provides clear explanations about how data is handled."
Published January 2015
Copyright DPN
The information provided and the opinions expressed in this document represent the views of the Data Protection Network. They do not constitute legal advice and cannot be construed as offering comprehensive guidance on the EU General Data Protection Regulation (GDPR) or other statutory measures referred to.