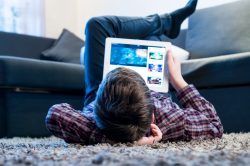 How do organisations protect children's privacy online?  What are your legal and ethical responsibilities?
In this webinar one of the country's leading privacy lawyers, Robert Bond from Bristows LLP is joined by a panel of experts who discuss the duty organisations have to protect children and how to develop effective approaches to managing this.
GDPR explicitly identifies children as 'vulnerable individuals' who should be awarded specific protection and the ICO's Draft Age Appropriate Design Code sets out 16 standards for Information Society Service providers whose services are 'likely' to be accessed by children.  The draft code has led to concerns the onus will be placed on organisations to be able to demonstrate when children are not likely to access their services – that they can't just assume they won't.
Robert Bond, DPN Chairman, was joined for the webinar held on 18th October 2019 by:
Roberto Colizzi, Senior Counsel at Turner
Professor Andy Phippen, Professor of

Social Responsibility in IT,

 from Plymouth University
Boris Radanovic, Engagement and Partnership Manager, South West Grid for Learning
Debbie McElhill,  Data protection consultant, DPN Associates Ltd
Copyright DPN
The information provided and the opinions expressed in this document represent the views of the Data Protection Network. They do not constitute legal advice and cannot be construed as offering comprehensive guidance on the EU General Data Protection Regulation (GDPR) or other statutory measures referred to.