Data Protection Network Associates has been up and running since 1st May this year and a lot has happened to us and to the world around us.
We've not seen each other since early March, yet we've managed to set up a new consultancy business, run some fascinating webinars and win some new clients. For that we'd like to thank all our friends and industry colleagues for their support and encouragement.  
And, whilst we've been busy with DPN, the COVID pandemic has been running its course. It's been difficult for everyone and we know for many people it will have a huge impact on their ability to make ends meet.
With that in mind, we decided to forgo Christmas gifts and cards and, instead, support a food bank charity for Christmas and for the next 12 months. The charity we've selected is Bankuet.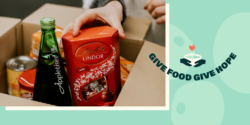 The model is simple; Bankuet uses its platform to raise donations which are converted into the supplies the food banks need most. Basically, filling the gaps by providing what people need most, when they need it.
As a first step we're making a one-off donation of £1,000. We expect to carry out some other fundraising activities in the next year to add to this donation, including a sponsored walk with the team dogs Freddie, Mishka, Lara, Luca and Loki.
You can find out more about Bankuet and donate if you wish at www.bankuet.co.uk  – If you donate please be sure to select the Data Protection Network Associates campaign. 
Finally, we'd like to send our very best wishes to all our friends and colleagues. Stay safe and have a Happy Christmas.
Caroline, Julia, Phil and Simon