Data Protection Policies – what do businesses need?
Under EU and UK data protection law businesses need to make sure they have 'appropriate technical and organisational measures' in place to protect personal data. Organisational measures include making sure staff receive adequate data protection training and guidance about how they should handle personal data.
In my experience, people are keen to 'do the right thing' with personal data, but are sometimes unsure how to go about it.
This is where well-crafted policies can really help, sitting alongside and integrated with employee training. Unfortunately people often have a negative view of policies. Long-winded policies, full of impenetrable jargon which regurgitates the law can turn people off.
A vanilla one-size fits all approach has little value… but there's a much better way. A well-written, easy-to-read, concise policy can communicate 'what good looks like' for your business and explain how your people should behave to deliver good practice.
Yes, you absolutely need to take into account what the law says. A policy should identify key risk areas, but crucially it should also tell your people how they should act to meet your company standards – which include legal compliance.
Don't shy away from stressing the benefits for your business of acting responsibly. Focus on the needs of your business sector and the unique nature of your businesses processing.
Make policies relevant to your workforce and how your business operates. Even better if you can, tie-in the launch of improved data policies with data protection training, which shares the main themes from the policies, this can really bring them to life , improve awareness and reinforce positive behaviours.
What data protection related policies are needed?
First decide which policies you actually need and how they should fit together. My favoured approach is to have just two 'parent' data policies, a Data Protection Policy and an Information Security Policy, then link out to 'child' policies or procedures which sit below them.
You might consider a third parent policy, such as Acceptable Use, but personally I prefer information about acceptable use to be included within the Data Protection and Information Security policies, so people don't have to search around.
Here's a typical Policy Framework, showing the two 'parent' policies and examples of possible 'child' policies or procedures below.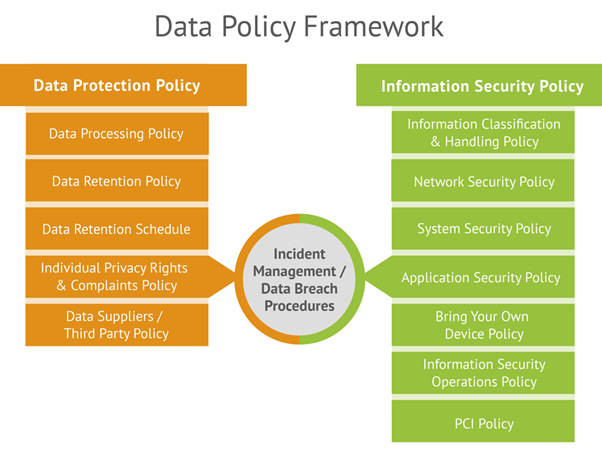 The range of policies you'll need will vary from business to business. A small company, with a handful of employees, processing relatively less sensitive data won't need a raft of policies.
Many micro or small businesses may just focus on having a Data Protection Policy (which covers the data lifecycle from creation through to retention) and an Information Security Policy. Alongside these you'll definitely need a clear procedure for handling data breaches and individual privacy rights.
How to write helpful, practical data protection policies
As said, too often policy documents are littered with legalise and jargon. Sometimes it feels like a policy has to be formal and massively detailed. Not true. People shouldn't need a lot of specialist knowledge to understand your policies, particularly those aimed at ALL staff. Straight-forward instructions are more likely to be read, which means more people are likely to follow them.
Take a look at the way your policies are written. Are they a bit dry? If they could do with freshening up, here are some simple do's and don'ts to consider:
Do's
use everyday words in place of jargon
explain any necessary terminology in plain English
break up blocks of text with headings, lists and tables
highlight key messages you want to get across
include useful tips
give useful examples tailored to your business
rope in your Comms or L&D team to help simplify things (or anyone who's good with words)
cut out detail by linking to other related policies, guidelines, procedures
ask for feedback – how often do people use them? Do they find them helpful? What would make them better?
Don'ts
avoid complex language / legalese
avoid 'insider' jargon – why say 'data subject' if you could say people, individuals, customers, patients etc?
avoid cut-and-paste definitions from GDPR text – where you use data protection terms, such as controller, processor, third-party, anonymisation, automated decision-making explain what these mean in layman's terms
Avoid information overload
Of course, balance is important. While overly complex policies will gather dust, we need to include enough useful and important information to get key messages across. We're not talking about talking down to people or patronising them, either.
Of course, we also need to make sure people are aware of relevant policies and can easily lay their hands on them.
How to communicate data protection policies
I'd recommend you host policies on your Intranet, if you have one, and create them in the form of web pages rather than PDFs. It's good practice to include hyperlinks to and from topic-specific guidance notes, so people can easily navigate to find more about a specific topic. This helps you to keep the parent policies short and concise – easy to digest.
When you carry out data protection training, remind people where to find related policies. In fact throughout the year use near-misses, news stories and other events to reinforce key messages and point to your policies.
Well-crafted easy to digest data protection related policies will go a long way to guide staff on how you expect them to handle and keep personal data secure in their day-to-day roles. But as always proportionality is key, a smaller business handling fairly insensitive data wouldn't be expected to have multiple policies.